Let me guess.
You love learning.
Over the years, you've taken an endless series of classes. As soon as you finish one, there's another one that you have queued up, like an endless Netflix binge-watching session.
Class after class after class.
Always something more to learn.
Let me ask you a question.
How much success have you been able to enjoy with all this learning?
You see, there's a lie out there.
"Knowledge is power."
Every class that you enrolled in sold you this lie, "If you take this class, you'll be able to do XYZ…"
But after the class, do you do XYZ, or do you feel like you still don't know enough and sign up for another class that promises to teach you how to do more of XYZ?
The truth is that knowledge is only potential power. It doesn't matter how much you know if you don't take action.
Fear Trumps Knowledge Every Time
The problem isn't in the knowing, the problem is in having the confidence in trying and doing.
I'm a coach and every day I speak with potential clients on how do they want to powerfully move forward in their lives.
I'll hear stories of how they want to find the partner of their dreams, build a business around a passion that they love, or by being a leader and serving their community. I hear these stories every day.
And about half the time, when it comes down to making a choice, they choose not to take action and work with me. They tell themselves that life really is fine, that they're learning and growing every day, and that they are happy with where they are in life.
These individuals feel that taking classes will get them where they want to go and don't feel that coaching will make a difference.
I've learned to recognize fear and a lack of commitment to change, as the saying goes, "You can't push a wet noodle."
Fear trumps knowledge every day of the week.
When you let your fear control you…
Learn to Be Unreasonable
We all have reasons.
In fact, for any worthwhile endeavor, there will be 100 reasons why not to do something for every one reason why to do it.
At a certain point, the only reason to do something is because you choose to.
Elon Musk started Tesla, "knowing" it would fail. He was so sure it was going to flop that he refused to let his friends invest in the company knowing they would lose their money.
When asked why he would start something, knowing it would fail, he responded, "If something is important enough, you should try even if the probable outcome is failure.."
Elon is unreasonable. All you have to do is look at this timeline of his successes and failures.
Learn by Doing
Don't misunderstand me.
I'm not saying that learning is not important, it's vitally important. But what I am saying is that action is often more important than learning.
There's a saying I like that speaks to beginner's luck, "Ignorance on fire. Knowledge on ice."
Have you heard of the Dunning-Krueger effect?
It's a cognitive-bias model that suggests that individuals with less skill in a field will overstate their ability and how hard the task they have in front of them.
While those who are more skilled know how hard the task is. This knowledge can often create additional mental hurdles to the already challenging task, freezing them into inaction.
The happy middle ground is to know enough to get started intelligently and be ignorant enough to "know" that you can succeed.
You Don't Always Burn When You Crash
I've done my best to live in this happy place of being "intelligently ignorant."
As one example, years ago, when I was an apprentice for my career as an electrician, I was sick and tired of my "Fix-It-Again-Tony," Fiat Spider. and traded it in to buy my first motorcycle, a Honda Hawk 650.
I had gotten my motorcycle driver's permit but had as of yet to have ever physically driven a motorcycle. So, picking it up from Honda of Glendale, asking the salesman to show me how the controls work.
Over the next few hours, I'm driving in the back streets of Glendale, getting comfortable up to 2nd and 3rd gear. I then head to the Rose Bowl where I can use the parking lot to get up to the higher gears.
Finally, as night is approaching, I try the freeway from Pasadena to Glendale. Surviving and exiting the freeway, I'm now at a crowded intersection waiting for the light to turn green, with a line of cars behind me.
Sweating, I'm worried about stalling the bike when the light turns green, I over-react. Gassing too hard, doing my first wheelie through the intersection, only to lose it and fall of the bike and it goes crashing down in the intersection, luckily hitting no one.
Picking up my ego and bike from the ground, and luckily one of the onlookers who stopped to check on me was a motorcycle rider. He helped me to check my bike, bend back the gear shifter and made sure I was okay.
With my bike and my tail between my legs, I got on my brand new bike with its brand new "road rash."
And I made it home and drove it to work the next day.
That was over 30 years ago, a half dozen bikes and I love riding more now than ever. That wasn't the last time I went down and the chance is always there. I tell myself each time I get on, "I could go down today." If I'm not willing to take that responsibility that day, I don't rid.
But I always love it when I do.
And that might not have happened if I had been reasonable, and not bought a bike without knowing how one worked first.
To Be Successful, Be an Apprentice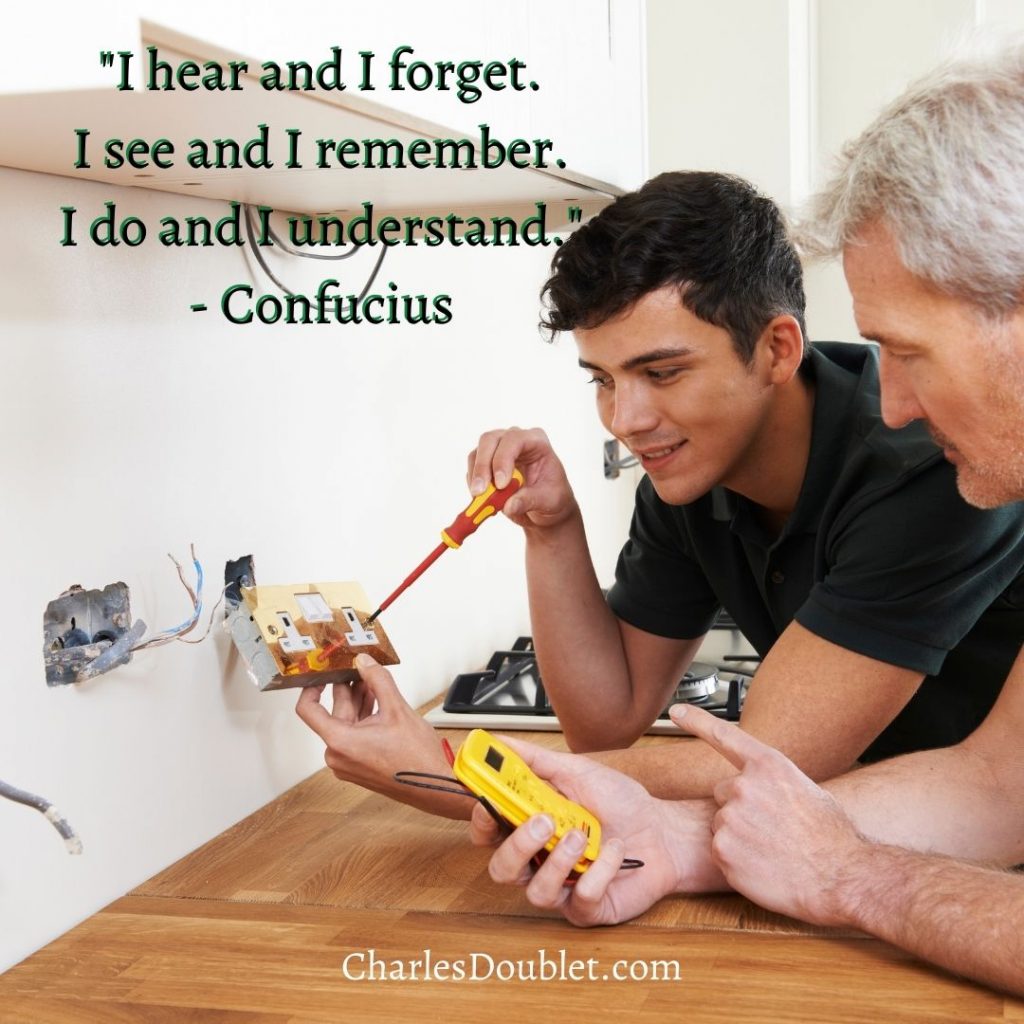 As I mentioned, when I bought that motorcycle, I was a first-year electrical apprentice of a four-year program.
In our local union apprenticeship, there were two parts of it to graduate and "journey-out". You had to go to school two nights a week and you also had to have the equivalent of 9 months of on-the-job training, working in the field for each calendar year.
We learned theoretical lessons in class and practical application in the field. The two go hand in hand.
Learning without doing isn't true learning. Doing without understanding the principles behind the actions only creates automatons.
If you want to create more success in your life, yes, learning is important but until you find someone who will help you to take action, fear will stop you.
A great example, in the 80s, when I was an apprentice, we would work stuff "hot" to learn to respect electricity but not be afraid of it. Maybe, one day, I'll write about drilling into a live 3000A copper bus bar.
Nowadays, because of litigation and insurance oversight, electricians today are repeatedly told not to work circuits hot, but there are times when you can't turn off a circuit; i.e. critical-care circuits in hospitals. But if you don't get the practice, you won't be able to do it when you need to.
The secret to success. Know what you want to accomplish. Get the help you need. And don't let fear stop you. And when you get knocked down, get back up, and hit it again smarter and wiser.