IS YOUR WAY OF BEING
"CREATING A WAY"
OR
"GETTING IN THE WAY?"
If you are a results-oriented business owner
who wants to create powerful relationships,
make a HUGE impact,
increase revenue,
and create BADASS results;
I can help you to achieve the results you desire.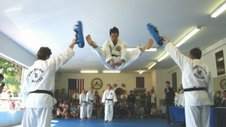 I help individuals who are struggling with three different stages of the business-owners' journey;
1. "I need help building traction to get my business going."
You're struggling to keep your head above water. You have more bills due than clients coming in through your door. And you're running out of ideas, energy, and time.
2. "I Need to Scale my business."
Your business is going well and you've had it for a number of years but you need something different. The business is taking a toll on you, your energy, and your relationships. If you don't make a change soon, you might be saying goodbye to your partner and maybe half of your business, or worst.
How can you make as much money, if not more, AND work less in your business?
3. "I should be happy but I'm not."
You've worked hard. You have a successful business and all the toys that a successful business was able to provide for. But something's missing…
And you can't go to your family and friends, they're envious of your success, "how could you not be happy?"
It's time to take a deep dive into your purpose, principles, and passion; reconnect with those core values that may have gotten side-swiped on your road to success.
ARE YOU READY TO GO ALL-IN?
You're here because of one thing,
You're ready to get what you want.
It also requires
Strategies, Tactics, and Implementation.
IN OTHER WORDS,
IT'S REQUIRING YOU TO GO ALL-IN.
"Chuck has amazing powers. He is not only well-read but has an unbelievable ability to retain, index and synthesize that knowledge into carefully orchestrated steps for creating organizations, businesses like I've never seen. In just a short time, he not only understood my businesses and mission, but was able to come up with a step by step plan and more importantly, he cared enough and took the time to sit down and write to each of the members of my team. I love connecting with him on a regular basis. As the world goes through exponential technological change, we will see a surge in mid-career transformations and it is one of the hardest things to deal with as a middle-aged person. I am in the middle of this and Chuck does an amazing job planning for this for me and most of the people on our team."

— Joseph Jeong, serial entrepreneur, educator at MIT, and founder of EXLskils and FutureHack
Good News:
"Chuck has the ability to think deeply and connect information on different levels. When I've been stuck, he asked the right questions or provided the bit of knowledge I needed to free my thinking. Chuck gives 110% to helping find the needed solution. In the game of life, I want Chuck on my team. Lucky for me he is!!"

– Alicia Berberich, author of Power Up Your Productivity
Are you ready to GO ALL-IN
in every aspect of your life?
Creating a Powerful Mindset,
which will…
​Create powerful RELATIONSHIPS.
Increase your REVENUE.
​Build your RESILIENCE to get in the best physical, mental, and spiritual shape of your life.
Have a HUGE impact in every area of your life.
"I've seen firsthand how Chuck consistently supports and guides others to become more successful versions of themselves, often by sharing ideas and stories based on his rich life experiences. And more impressively, he does all this in a gentle, empathetic manner — which is key for anyone who coaches and teaches."

— Ian Chew, founding executive at Seminal, featured in Inc. Magazine, Fortune, CBC
The deeply intimate relationships that make you fall in love again…
The professional relationships and community which will help you achieve your greatness…
How much longer are you going to sit on the sidelines?
"I've really enjoyed working with Chuck and appreciate his willingness to roll up his sleeves to help elevate my thinking and achieve powerful results. With a fresh perspective, I've found him both a strong ally and collaborator in my work to explore counterintuitive thinking and expose blindspots. I enthusiastically recommend him as someone who has both his heart and soul in the game."

– Michael Propper, serial entrepreneur and VC Start-Up
Through a powerful hybrid of Personal & Executive Business Coaching, I help individuals step deeper into personal leadership, career mastery, and infinite possibility by answering
one simple question…
"Chuck is one of the most brilliant humans I have ever met. He has an inborn capability to be your biggest support. He is constantly coming up with new ideas to solve the root cause of issues that you didn't even know existed at your core. He helps you from his pure heart without imposing. His capability of turning the macro picture in micro steps is remarkable."

– Melissa Concessio, author of Go F*** Yourself
"Charles Doublet has a fantastic way of bringing people out of their mental blocks, helping them to access the deepest places within to connect with their authentic voice.

Charles is a high-performance coach who effortlessly helps leaders to recognize and achieve more than they could imagine. His contribution to my classes has helped students become more expressive, specific, and effective as writers and communicators.

Charles is a valuable asset for any individual or organization wishing to grow beyond their expectations. "

— Michael Simmons, serial entrepreneur and founder of The Learning Ritual and the Mental Model Club, featured in Inc. Magazine, Fortune, CBC
You made a promise to yourself
that you want to reach your
Full Potential.
Now it's time to keep that promise.
It's time to stop living your life halfway.
Be the LEADER
you were born to be…
Are you ready to go ALL-IN?

Send me a message.