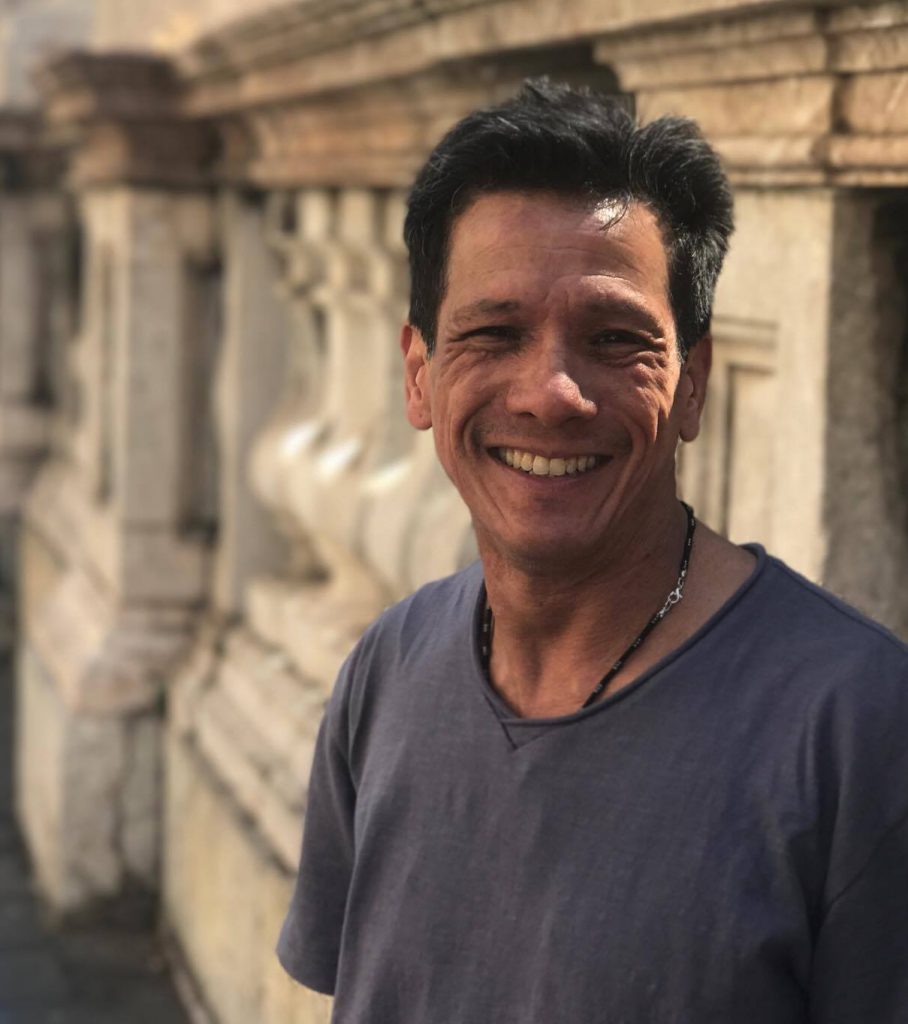 The world has enough lemmings and Luddites, what we need are more leaders.
Are you up to the task?
What will it take for you to live a life of passion, service, and purpose; and help others to do the same?
Living a Life on Purpose
Yeah, I know you've heard it before.
Unfortunately, most people have it incomplete.
It's not only a life of purpose but also life on purpose.
"Of purpose" usually means following your passion, being filled with excitement, and not following the crowd.
While "on purpose" is very conscious, measured, and self-directed. (What a difference one letter can make.)
Living consciously, not mindlessly out of habit.
Setting your sail and not being tossed by the wind.
And continually adjusting as you make progress and grow.
Only then can you be "in the zone."
In the flow.
Zen.
Wait! I thought you were a business coach
Yes, I'm a firm believer that everybody needs to be in business, whether as a side-gig as a way of expressing yourself or a full-blown business that allows you to experience more from life.
I teach solo business owners, like you, how to grow heart-centered, successful businesses.
People don't realize it but most business problems are just an extension of personal problems.
So I focus on exploring the personal in concert with the professional. to help you create a business of integrity, value, and service.
That way, the business stuff becomes simpler.
Not necessarily easier, because life is not easy, but definitely simpler.
What Does That Look Like?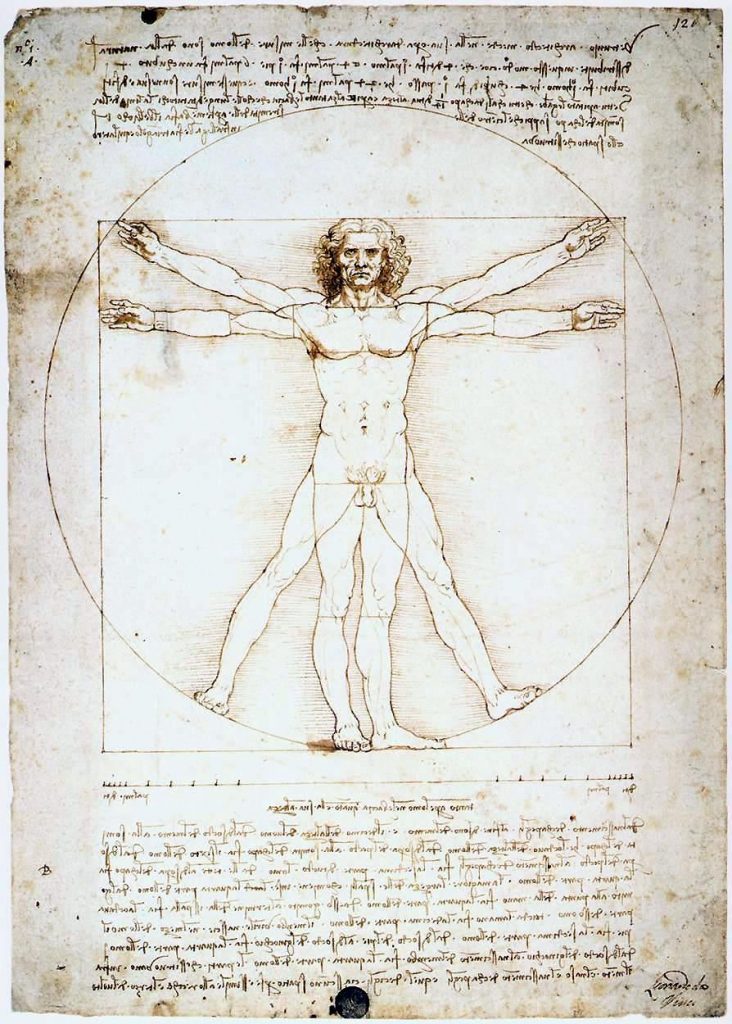 Do you know this picture?
It's Leonardo da Vinci's, Vitruvian Man.
It represents man's connection to the universe in perfect symmetry to himself and everything around him,
All my life, I've sought out teachers and role models who were successful.
But not just successful in business.
I've seen too many examples of having success at work, but the family life sucks.
Or the health sucks.
Or worse yet, they feel hollow and empty inside.
And when they're not at work, they feel lost, without direction.
The same can be said for those individuals with a great family life, or phenomenal physical health, or even deep spiritual growth.
But other areas suffer.
Too often, we as individuals focus most, if not all, of our attention and energy, on one or two aspects of lives, neglecting the rest.
Not realizing that everything else will then take a hit.
[If you want to learn more about me, click here.]
Go Rin No Sho (The Book of Five Rings)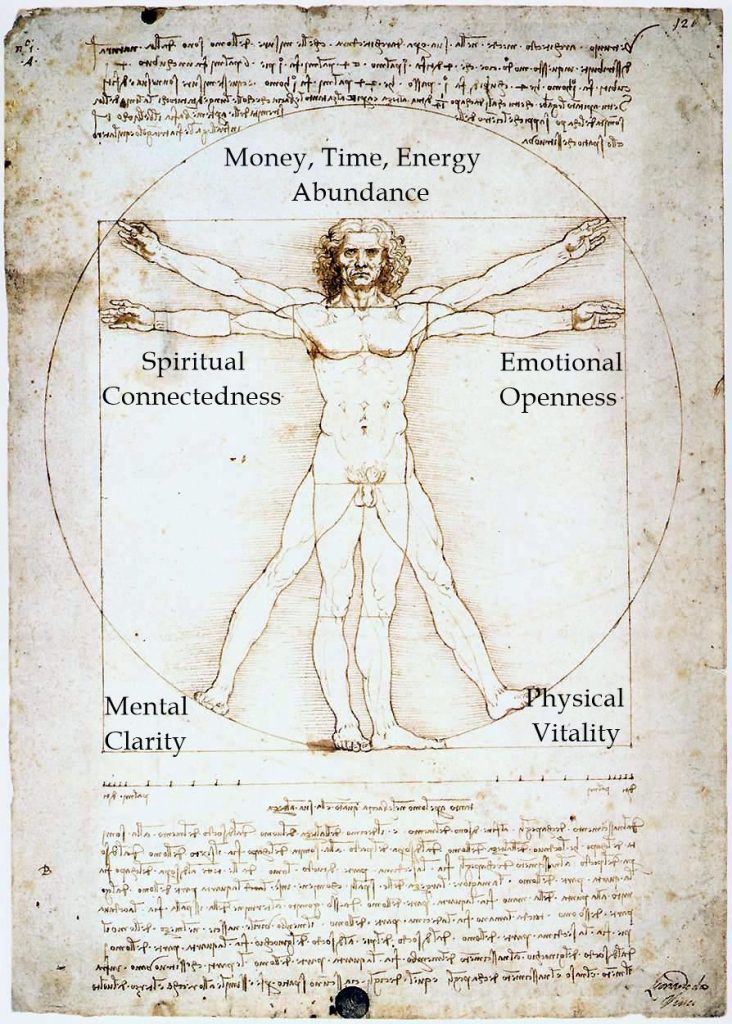 I focus on, and teach my clients, that there are five areas for you to develop if you wish to have a successful life.
They are grounded in:
Physical vitality and flexibility
Mental clarity and curiosity
Emotional openness and connection
Spiritual groundedness and wonder
The energetic abundance of time, space, and money
With all five in place, you are living a full complete life.
But missing any one aspect will impact your ability to enjoy the others.
Go Rin No Sho (The Book of Five Rings), is the 17th-century book of strategy by the Japanese samurai, Miyamoto Musashi.
Legend has it that he was undefeated in over 60 battles and that he wrote this book to share his winning strategies.
I first read it in the early '80s while still a young man, it was the first book that thought me about strategy, tactics, and living life consciously.
That book (among others), my training, and certifications, and putting it into practice on the mat, in the street, and in life everyday grounds my work with my clients.
If you want to learn more, click here